Bovec Massage
Enjoy The Nature & Relax
Therapeutic traditional Thai massage
Open Hours
Mon – Fri — 8:00am – 9:00pm
Saturday — 8:00am – 9:00pm
Sunday — 8:00am – 9:00pm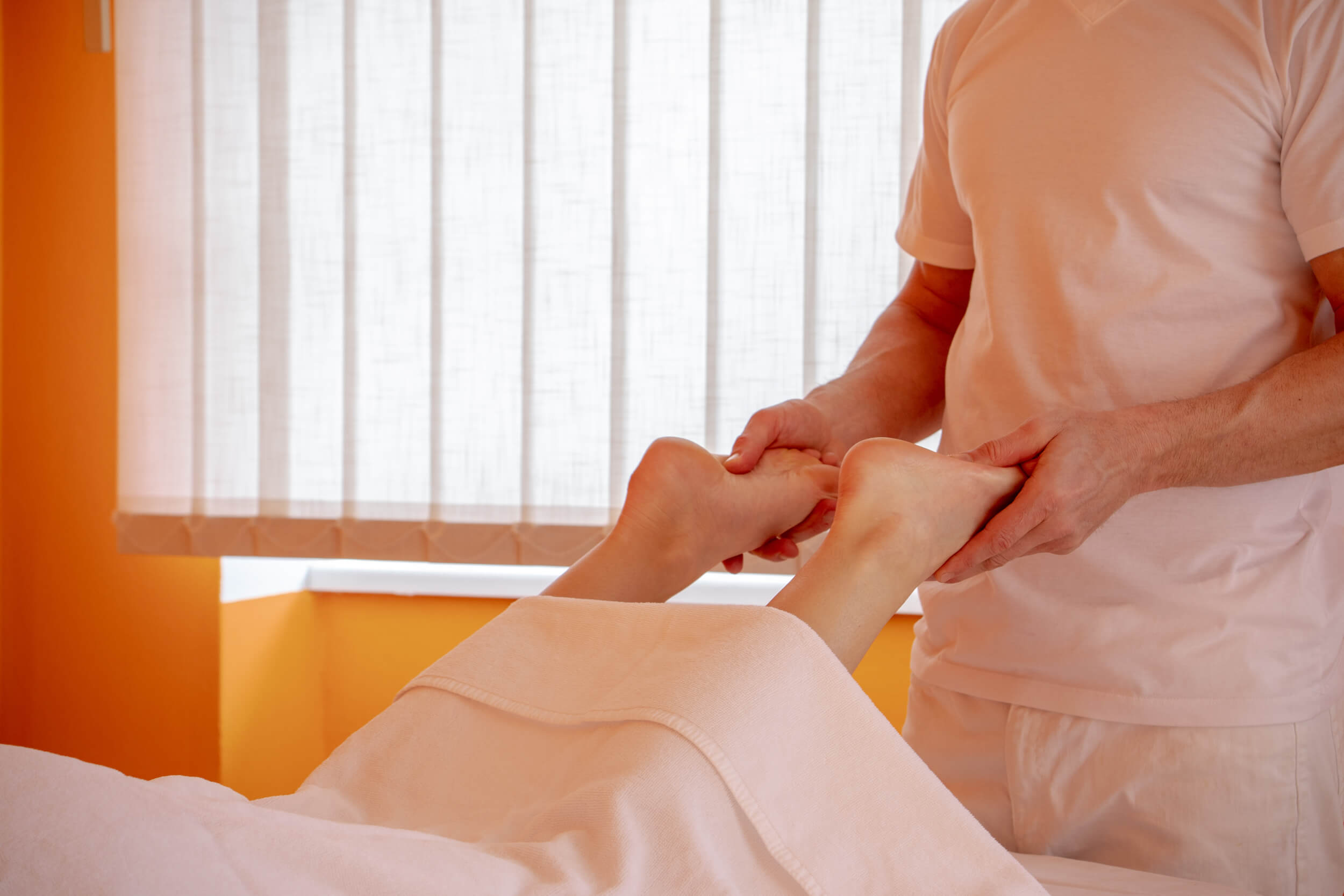 Relaxing massage with Reiki treatment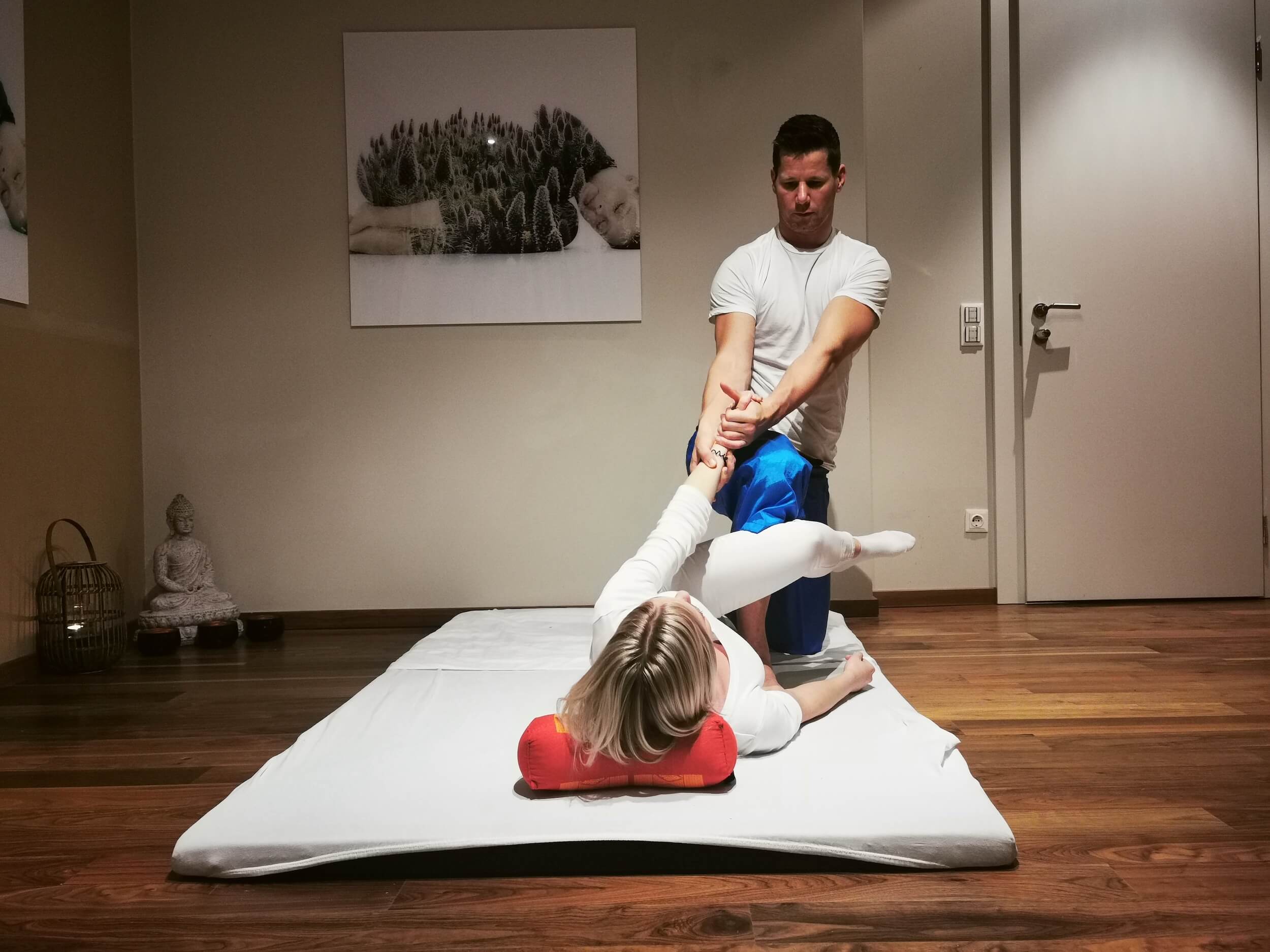 Therapeutic traditional Thai massage
Full Body Massage
My massage is an invitation on a journey to rediscover your body. Nice
intensive strokes along the entire body, with alternating movements.
Structural work on joints and muscles increase sensory-motor
perception. With treatment stress level will decrease, body regains
flexibility and free movement.
Over the years, my massages methods have evolved. My massage is a
synthesis of versatile techniques. I combine classic massage with fascia
treatment, osteopathic, shiatsu, and Thai massage techniques.
Let yourself be pampered with a massage oil spiced with essential oils of
your choice. Pleasant aromatic experience will help you forget everyday
life and relieve tension.
The intensity of the full body massage can vary from mild to moderate.
Prices
50 Minutes 53 Euro
75 Minutes 73 Euro
Sportmassage
Muscular soreness often arises when body is exposed to the stress that
is not usually present in everyday life. Body adapts, but consequently
reacts also with inflammation in the tightening of muscular tissue.,
Muscle soreness can limit the functionality of the movement, and oftely
untreated leads to more chronical problems.
A sports massage with adjusted, but often powerful intensity dissolves
the knots in the tissue, relaxes the muscles and speeds up the recovery
process. The mobility is additionally improved by targeted stretching.
During the treatment, I apply my knowledge of fascial therapy to deliver
even better result.
The treatment can be carried out as a full body massage or just focuses
on target muscle groups. The intensity of the sports massage is between
medium and strong.
Prices
50 Minutes 55 Euro
75 Minutes 75 Euro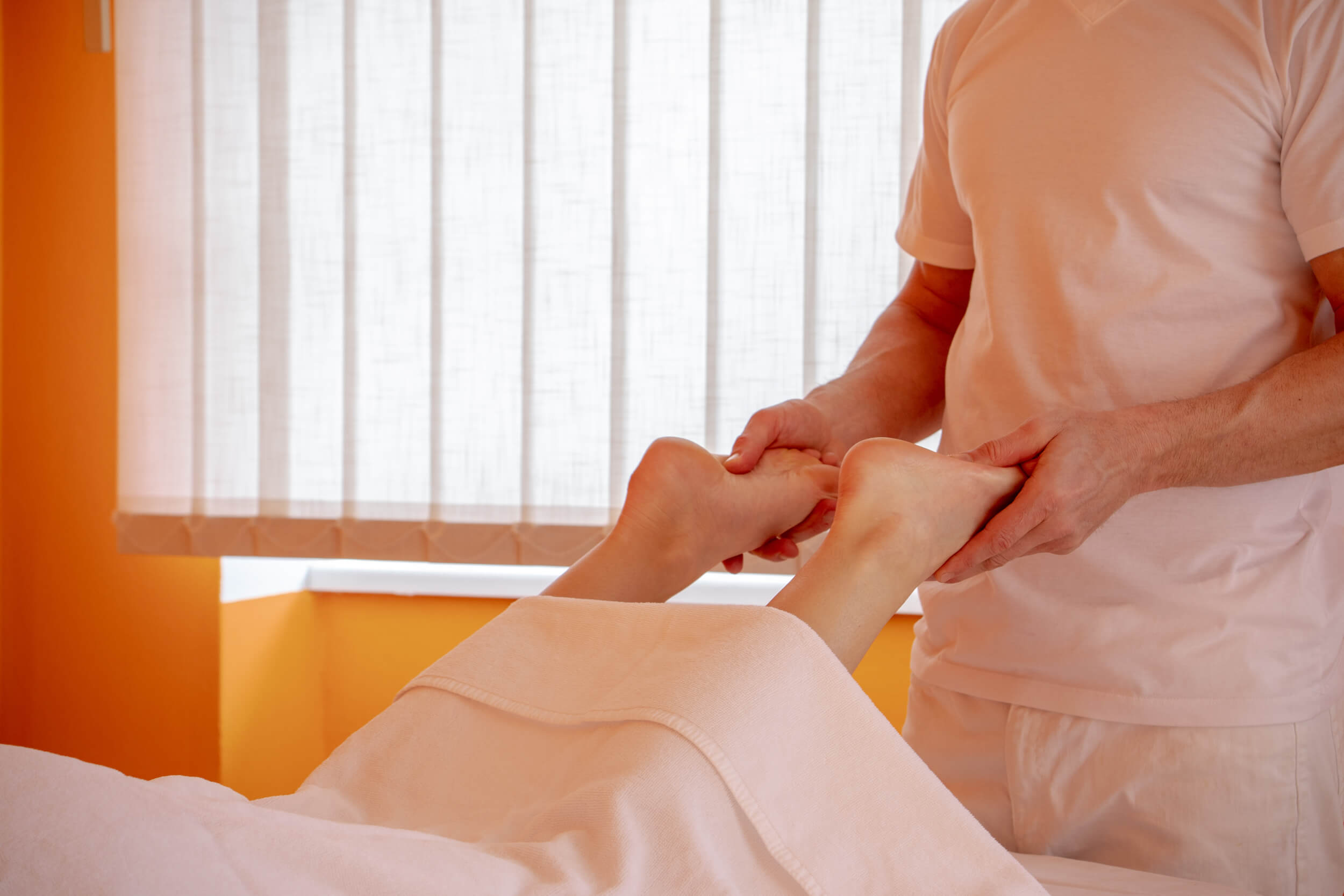 Reflexology
Feet are our basic transport option every day. We force them into tight
shoes, stand on hard floors and use them in sports. We neglect our feet
every day. We count on them to carry us for a lifetime. From time to time
we should repay the favor – treat your feet to a reflexology massage.
The reflexology massage not only relaxes the muscles in the feet and
calves, but the whole body. It stimulates the reflex zones associated with
the organs. If a reflex zone is degenerated? sensitive? This often
indicates a disturbance in body organs.
During the treatment I like to include also approaches from Thai foot
massage, which is characterized by long strokes through the whole sole.
The reflexology treatment can be perfectly combined with a full body
massage.
Duration: 40 Minutes
Price: 45 Euro
Relaxing Massage With Reiki Treatment
The aim of this massage is to achieve an overall and harmonious unity
of the body through the use of certain breathing techniques that are
coupled with various known and efficient massage techniques.
It releases the bodys own energy, which can solve physical and
emotional trauma.
Basic massage oil can be mixed with aromatic essences to lighten up
your mood and. provide additional relaxation during treatment.
Prices
50 Minutes 55 Euro
75 Minutes 75 Euro
Thai Massage
Thai Massage is an effective massage technique to address various tension areas within your body. On top, it is meditative for both giver and recipient. It is given slowly with great focus on receiver's response.
Slow meditative rocking motion is used to gently palm press and Thumb Press "SEN Lines" which are energy lines similar to meridian lines and Acupressure points (as in Chinese medicine), revitalizing and energizing the body's natural energy flow. What's unique is that Yoga stretches are used throughout the body stretching the muscles and opening the joints.
Thai massage is performed on a mat on the floor. This allows many movements that are not practical or effective on a table. The receiver is fully clothed.
You can choose from an active Thai massage to a relaxing option. Additionally, you can decide for predesigned programs for chronical muscle pain, fibromyalgia, stress and anxiety.
 90 min 75 euro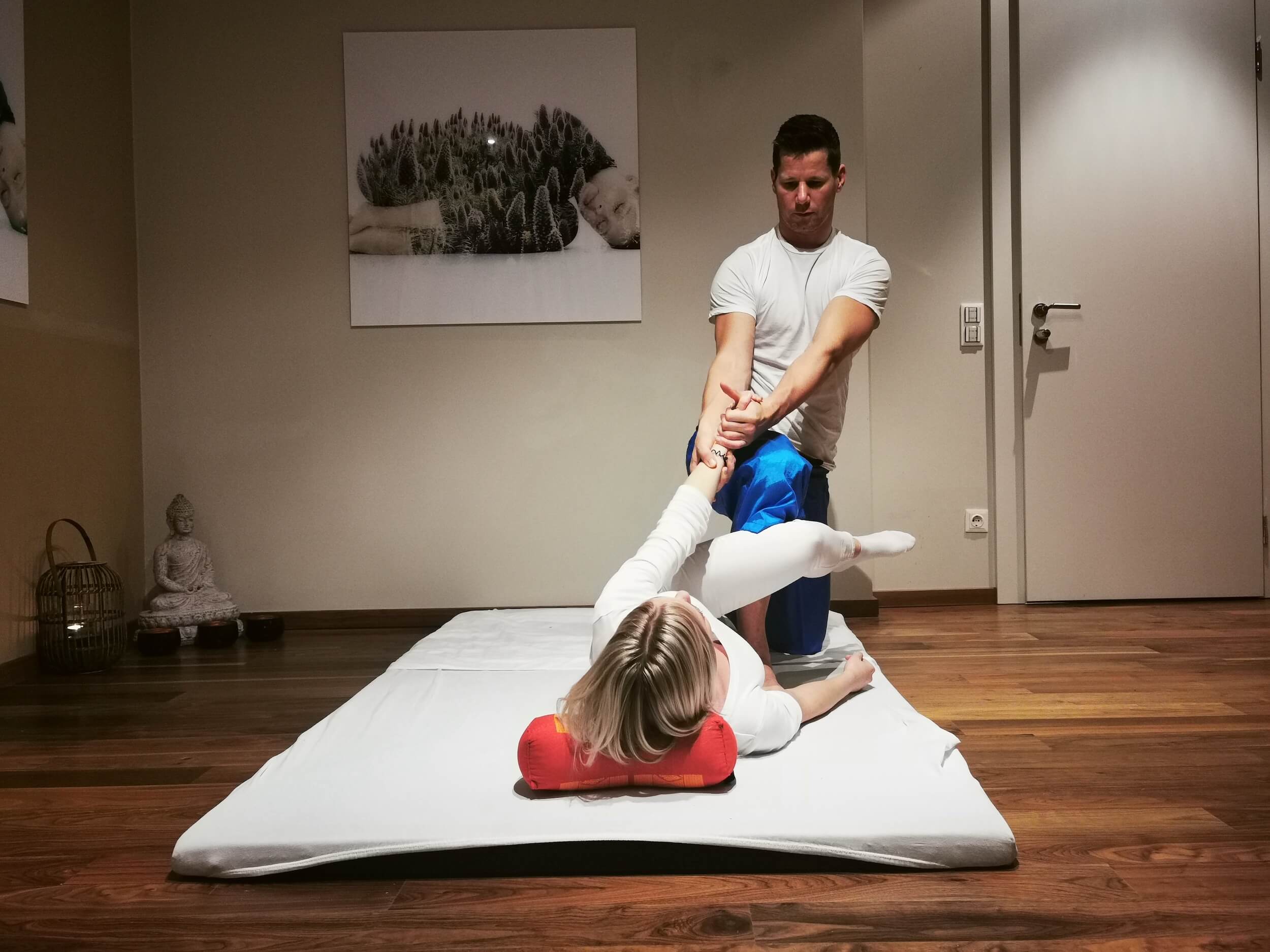 Therapeutic traditional Thai massage
for stiff and painful body with focus area e.g. backache, stiff shoulders and neck.
A full body massage with traditional techniques given on the floor mat, that focuses on the affected area. Pressure is applied on the acupressure points using the Thai massage technique to relieve discomfort and pain. Problematic areas are approached with dedicated grips and stretches resulting in higher mobility and feeling of relaxation. During the massage, both giver and receiver are fully dressed, wearing comfortable clothes.
90 min 75 euro
Massage workshop for couples
Join me to learn about massage and immerse yourself in the massage therapist world. I'll explain the different techniques we use, and I'll teach you how to massage. This is a hands-on workshop, so be prepared to enjoy the treatment too. I will customize the treatment to make your experience unique.
120 min 160 euro
Book Now
user or easy to use calendar below.
About Me
My name is Attila Biro, Hungarian by birth, cosmopolitan by heart.
My massage philosophy is that I want to help people by improving how they feel in their bodies. After all, there is no better reward for a masseur than a client's smile having a calm face after a treatment and the assurance that his or her body feels pain-free and stress-less, able to enjoy the activities.
I got interested in the profession of a massage therapist after a meeting with a Russian naturopath Boris Vodokov in 2001. Under his guidance, I mastered the basic skills. Since then, I have completed several training courses such as Manual therapy and Sports Massage, Ayurveda, Hotstone and Bamboo massage. I am skilled also in Reiki and Kinesiology taping.
What makes my experiences and knowledge of the human body even richer, is my love for the sport and personal injury and rehabilitation history.
Actively pursuing Kempo karate, ski touring, rafting and wild water kayaking for many years, hardly leaves the person in one piece.
Throughout my life, I have worked in many countries near and far, extended my foreign language base and never stopped feeling curious, open-minded and ready to meet new people and challenges.
Get in Touch
Rupa 17 Bovec Slovenia airport main building.
Open Hours
Mon – Fri — 8:00am – 9:00pm
Saturday — 8:00am – 9:00pm
Sunday — 8:00am – 9:00pm